As my oldest is getting to the age of learning to read and write, I am gleefully anticipating introducing different stories from my own childhood. Many of my friends had never heard of my favorites, so I decided to list a few here. One can always use a new title for the personal library, right? Most of them are older titles, so it might take some searching to find them. I've included a brief synopsis of each book along with my own memories and experiences with them. Enjoy!
Mistress Masham's Repose by T.H. White
Maria lives on the aging English manor of Malplaquet with a wicked governess who is plotting to steal her fortune. One day she notices a walnut shell with a baby inside. Yes, a baby small enough to fit into a walnut! She finds herself befriending a colony of exiled Lilliputians, the tiny people mentioned in Gulliver's Travels, and that's only the beginning of her adventures.
I loved this book as a little girl. I promptly forgot the name after I returned it to the library, and years later it took me hours of googling to find it. But find it I did, along with the discovery that Terry Pratchett loves it, too. I think that proves I have good taste when the creator of Disc World agrees with me! I still want my own spider-silk handkerchief, and I have a feeling my kids will, too.
The Sea Fairies by L. Frank Baum
A little girl named Trot wishes she could meet a mermaid, and the queen of the sea fairies grants that wish, giving her and her old sea mariner friend, Cap'n Bill, tails! They travel to the kingdom of Queen Aquarine and King Anko for a tour under the sea. When they are taken captive by sea devils, they must find a way to escape the clutches of a mysterious enemy.
I've never met a girl who didn't want to be a mermaid at some point. This story was more than a little wish fulfillment for elementary-aged me. It's an exciting adventure that I think even boys will enjoy, especially since Cap'n Bill is such fun. And in case you're wondering, yes, the author is famous for The Wizard of Oz.
The Cricket in Times Square by George Selden
Chester Cricket falls asleep inside a picnic basket in Connecticut and ends up in the subway station under Times Square. After befriending a cat, a rat, and Milo, a little boy running his parents' newspaper stand, Chester turns out to be quite the musician, copying the beautiful music he hears on the radio. That's just the beginning of his new life in New York City.
My favorite image in this story is Chester bedding down in a cricket cage shaped like a miniature pagoda, stuffed to bursting with a dinner of mulberry leaves. I think any child will fall in love with Chester and his friends. I plan to look up some songs Chester plays so my children can better imagine the story.
The Family Under the Bridge by Natalie Savage Carlson
A tramp finds three children hiding under a bridge and discovers they and their mother are homeless. Normally very independent and loving his freedom, he feels compelled to help the little family, and they change his life drastically.
I remember loving the adventure of the story and how the tramp was friends with gypsies and other unusual people. It also made me want to go to France as the story is set in Paris. One other thing to note is the book I read growing up was illustrated by the same person who illustrated Laura Ingalls Wilder's Little House series. I'm excited to see what my kids think of it.
The Grandma's Attic Storybook by Arleta Richardson
A grandmother tells her granddaughter stories of her childhood growing up on a farm in Michigan. This book a series of vignettes rather than a continuous story, so each chapter was totally different. The book is a compilation of a larger library of Grandma's Attic stories by Richardson, but I've only read this book.
I'll never forget the story about the facial mask made with beeswax. It made me wary of DIY facials well into adulthood! I also never plotted revenge pranks on my sisters after reading how that backfired in one of the stories. My husband was raised on a farm, so I think he'll like it, too. You may not be able to find this book (amazon had a few used ones, but that was it), so I'd recommend the Grandma's Attic Treasury, especially if you have girls.
The Little Lame Prince by Miss Mulock
Young Prince Dolor, lamed shortly after birth from being dropped by a vain chambermaid, spends his days in an isolated tower while his evil uncle runs his kingdom into ruin. A fairy godmother gives him a magic traveling cloak that acts like a magic carpet, giving the prince the ability to see his kingdom and observe the people he should rightfully rule.
The fact that this story begins with a tragedy might make it difficult for some to enjoy, but I envied Prince Dolor his magic traveling cloak and other gifts from his fairy godmother. It's a lovely story with a wonderful moral, and I think that children with disabilities or other limitations might find it encouraging.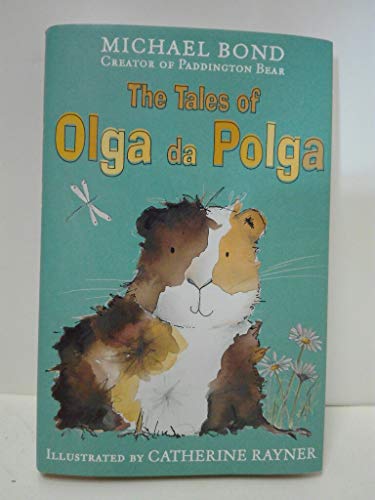 The Tales of Olga da Polga by Michael Bond
Did you know some guinea pigs are tremendously good storytellers with a flair for the dramatic? Olga da Polga the guinea pig comes to live with the Sawdust family, and life for them and for the neighborhood animals is never the same again.
If the author's name sounds familiar, you're probably a fan of Paddington Bear. We had some neighbors who had a guinea pig named Olga da Polga after this book, and it quickly became a new favorite in our house. I also had a guinea pig named Velvet, so I loved the silly stories Olga spins about how guinea pigs lost their tails and how the sky is falling. My children already love this book and want me to get the sequels. Once we arrive at our new home, they'll be on order!
The Wingfeather Saga: On the Edge of the Dark Sea of Darkness, North! or Be Eaten, The Monster in the Hollows, and The Warden and the Wolf King by A.S. Peterson
Janner, Tink, and Leeli Igiby live in the land of Skree which is ruled by the evil Fangs of Dang, ugly, brutal lizard-like beings with venomous bites and sharp claws. When Leeli kicks one of the Fangs in the shin to save her dog, Nugget, all three children end up in big trouble.
Last but certainly not least, this fabulous series was discovered by my husband. He's a fan of Andrew Peterson's music, and Peterson is at least as good a writer as he is a musician. He has been reading this series aloud to our kids each evening, and it's a hit. "Not my totatoes!" is a regular war cry about the house, and my oldest is fond of recruiting me to shoot Fangs with a laser gun. I particularly like the character Pete the Sock Man.
I hope this list gives you some ideas for your next bookstore trip or Amazon wish list.